After careful consideration I have decided to transfer all hardware review activities to a new domain. I purchased Hardwareasylum.com in 2012 and have been working hard to build a new and improved Ninjalane on that domain. If you are reading this you have reached one of the archived articles, news, projects and/or reviews that were left behind during the site migration.
Please update your bookmarks and be sure to visit the new and improved Ninjalane at Hardwareasylum.com
NVidia GeForce GTS 450 SLI Performance Review
Author:

Will West
Published:
Wednesday, October 27, 2010

Introduction
Our recent reviews of the NVidia GTS 450 and Gigabyte GTS 450 Overclocked left us wondering about SLI performance and if adding an additional card was really worth the upgrade. Knowing the base level performance of the GTS 450 and its primary competitor, the Radeon HD 57XX, we decided to setup a little test to see what kind of performance you can expect if you doubled up your GTS 450 investment.

Keep in mind our cards are not identical and while some people will say you have to have matched cards to run SLI, the fact of the matter is you are free to mix and match brands provided the GPU is the same.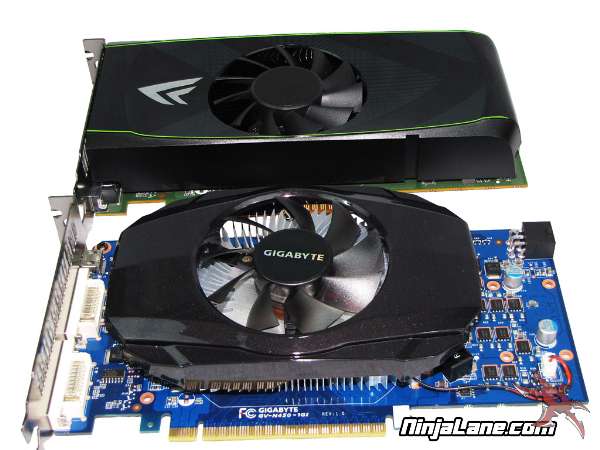 Specifications
Fabrication Process: 40nm / 40nm
Core Clock: 783MHz(Reference) / 810MHz(Gigabyte)
Shader Clock: 1566MHz(Reference) / 1620MHz(Gigabyte)
Stream Processors: 192 units
ROP Units: 16
Texture Filtering Units: 32
Memory Interface: 128-bit
Memory Amount/Type: 1GB/GDDR5 Memory
Memory Clock: 902MHz (3600MHz effective)
Memory Bandwidth: 57.7 GB/s
DirectX Compliance: 11
Connection: 16x PCI Express 2.0
Form Factor: Dual Slot
Multi-GPU Support: SLI