After careful consideration I have decided to transfer all hardware review activities to a new domain. I purchased Hardwareasylum.com in 2012 and have been working hard to build a new and improved Ninjalane on that domain. If you are reading this you have reached one of the archived articles, news, projects and/or reviews that were left behind during the site migration.
Please update your bookmarks and be sure to visit the new and improved Ninjalane at Hardwareasylum.com
NVidia GeForce GTX560 Ti Video Card Review
Author:

Will West
Published:
Tuesday, January 25, 2011

Overclocking
Earlier in the review, we mentioned the oversized heatsink nVidia decided to put on this card, and with that in mind, we cranked it up to see how fast it would go. Much like the GTX 460 NVidia designed this card with overclocking in mind, so it should do well, and we'll find out.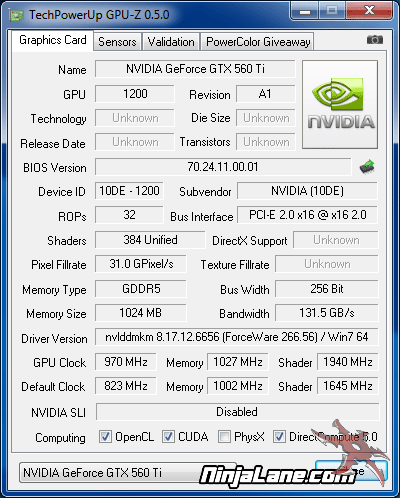 We immediately fired up Afterburner and bumped the core clock up to 970 mHz with no adjustments to voltage. This was the highest stable clockspeed we could run a game at without artifacts or crashing. The memory may have more potential, but looking at the game results, we didn't see the GPU being starved of memory bandwidth, so we didn't push it any further. With some voltage adjustments, this card may go higher but we will save those results for later.

Let's look at the overclocking numbers.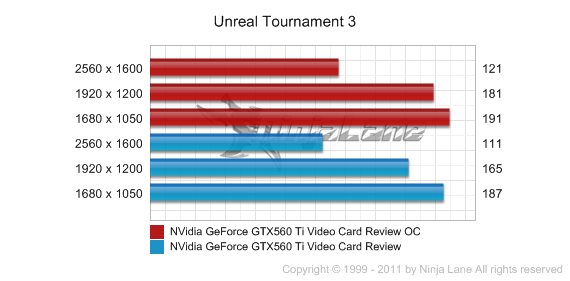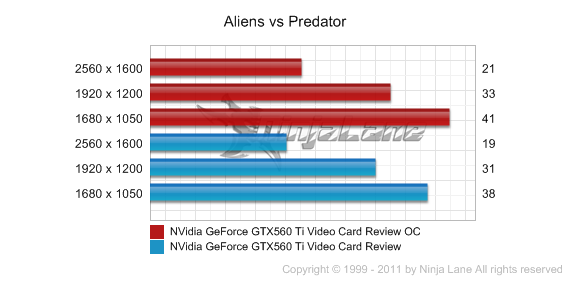 With the card overclocked, we saw an improvement of 10fps in Unreal Tournament 3, which is a nice improvement. When we moved onto Aliens Vs. Predators, we saw a more subtle gain in performance, and with this game, any boost in FPS is welcomed.