After careful consideration I have decided to transfer all hardware review activities to a new domain. I purchased Hardwareasylum.com in 2012 and have been working hard to build a new and improved Ninjalane on that domain. If you are reading this you have reached one of the archived articles, news, projects and/or reviews that were left behind during the site migration.
Please update your bookmarks and be sure to visit the new and improved Ninjalane at Hardwareasylum.com
Sapphire Radeon HD5450 Video Card Review
Author:

Will West
Published:
Tuesday, February 09, 2010

Introduction
There are many kinds of video cards in the world today, some designed for high end gaming and workstations, these are powerful and oftentimes expensive. There are cards designed for general multimedia applications, these cards fill the midrange on both the price and performance spectrum. Finally we have the low-end budget cards that really only have specialized purposes and generally speaking, low performance.

In this review we will be looking at a lower end video card that has a variety of applications. Quite often a video card of this nature is used to get people some sort of gaming capacity when all they have is the horrible integrated graphics solution. Alternatively a card like this could also be used as part of a Home Theatre Personal Computer (HTPC) solution easily providing better streaming video and high quality Blu-Ray DVD playback. Of course there is a business aspect to consider, and when you need to add additional monitors or just something more powerful to offload Adobe Software usage the low-end will often get approved first.

We are going to focus on the "gamer" aspects of the Sapphire HD5450 in this review. It is not the most ideal gaming card on the market, but when budget is more important you sometimes have to consider the extreme.

So let's get into this already.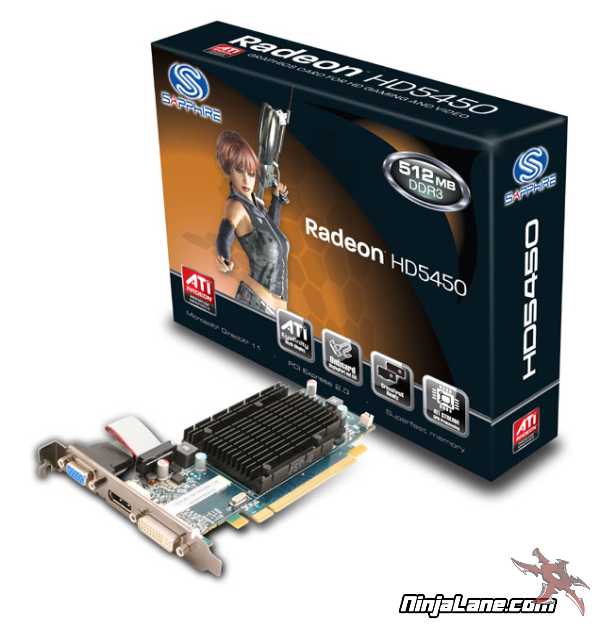 Card Features and Specifications
Fabrication Process: 40nm
Core Clock: 650MHz
Shader Clock: 650MHz
Stream Processors: 80 units
ROP Units: 8
Texture Filtering Units: 8
Memory Interface: 64-bit
Memory Amount/Type: 512MB/GDDR3 Memory
Memory Clock: 800MHz (1600MHz effective)
Memory Bandwidth: 12.8 GB/s
DirectX Compliance: 11
Connection: 16x PCI Express 2.1
Form Factor: Single Slot
Multi-GPU Support: CrossFire X