reviews
EVGA P55 Classified 200 Motherboard Review
Author: Dennis Garcia

Published: Friday, April 09, 2010

Discuss in the Forums
Conclusion
The Classified motherboard series is a great product line and offers amazing performance. However, as you may have noticed, these boards are not for everyone. Immediately you notice that instead of adding more features like additional RAID controllers, or PCI slots, they kept the board very trim focusing on performance.

Some of the performance features include the NF200 chip located near the CPU socket which adds an additional 16x lanes of PCI Express bandwidth. These additional lanes are then distributed across the four red PCIe slots towards the bottom of the motherboard. In triple SLI configurations these will have 16x lanes with the topmost slot getting 8x lanes directly from the CPU.

Many of the other features are designed primarily for overclocking and other enthusiast activities. The included ECP works great when tuning an overclock or for manually tweaking your voltage settings while a particular benchmark is running. It also helps when that pesky third video card is blocking the power and reset buttons that are located on the motherboard.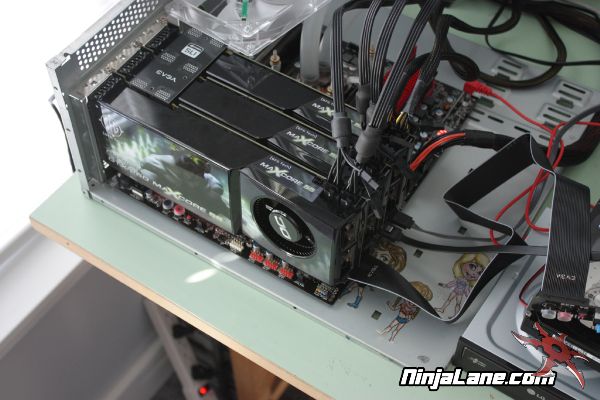 Overclocking on the P55 Classified 200 was extremely fun and allowed us to push our Core i5 processor up to 4.3GHz with relative ease and ran stable throughout our entire testing process. Not to mention, posting some good 3DMark runs for our
Ninjalane HWBot team
.

Good Things
Totally sweet color scheme
Full ATX motherboard
True Triple SLI Support
Voltage test points
Show Volt onboard voltmeter
PCI Express Disable Jumpers
Removable motherboard heatsinks
Trim and tweakable motherboard
Bad Things
Classified design not for everyone
Show Volt has limited use beyond the test bench
Ninjalane Rating
We would like to thank
EVGA
for helping to make this review possible.
Questions or Comments?
If you have Questions or Comments about this article, please stop by
our forums
and let your voice be heard.