After careful consideration I have decided to transfer all hardware review activities to a new domain. I purchased Hardwareasylum.com in 2012 and have been working hard to build a new and improved Ninjalane on that domain. If you are reading this you have reached one of the archived articles, news, projects and/or reviews that were left behind during the site migration.
Please update your bookmarks and be sure to visit the new and improved Ninjalane at Hardwareasylum.com
EVGA GeForce GTX550 Ti FBP Video Card Review and SLI Performance
Author:

Will West
Published:
Friday, March 25, 2011
Introduction
When manufactures begin selling common products they will often tweak the offering to make them more attractive than the competition. Sometimes this includes custom graphics or radically changed PCB design but often the simple changes are the most effective. For instance a strategic factory overclock can go a long way in transforming the usability of a video card.

In this review we will be looking at the EVGA GTX 550 Ti FPB (Free Performance Boost) video card which takes the nVidia reference design and tweaks the performance with a minor, and yet effective factory overclock. We will also be exploring the performance gains you can get by running two of these cards in SLI. As you may know SLI is the nVidia technology that allows you to bundle similar GPUs together for increased 3D game performance. Can the GTX 550 Ti SLI beat a single GTX 560 Ti?. You'll have to read on to find out.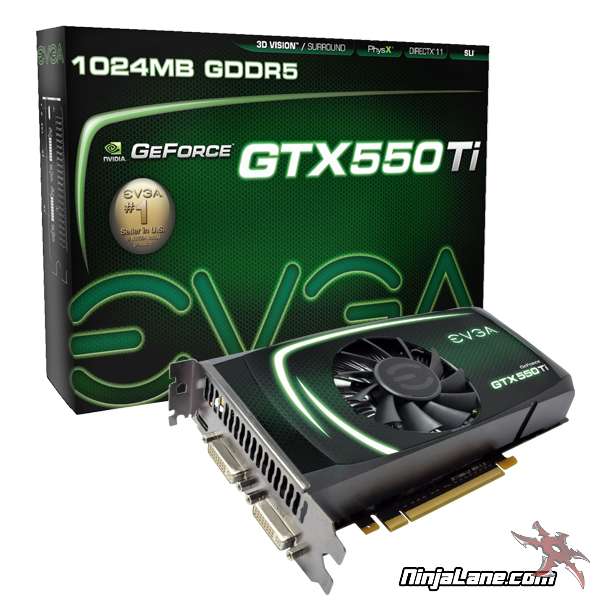 Specifications
Fabrication Process: 40nm
Core Clock: 952MHz
Shader Clock: 1903MHz
Stream Processors: 192 units
ROP Units: 24
Texture Filtering Units: 32
Memory Interface: 192-bit
Memory Amount/Type: 1GB/GDDR5 Memory
Memory Clock: 1089MHz (4356MHz effective)
Memory Bandwidth:104.5 GB/s
DirectX Compliance: 11
Connection: 16x PCI Express 2.0
Form Factor: Dual Slot
Multi-GPU Support: SLI
Model: 01G-P3-1556-KR
Warranty: 3 Year Warranty