reviews
EVGA GeForce GTX550 Ti FBP Video Card Review and SLI Performance
Author: Will West

Published: Friday, March 25, 2011
Crysis Warhead
Crysis Warhead is the same game as the first Crysis. The only real difference is that it's being told from the point of view of another soldier named Psycho. The character Psycho is on an island just off the coast of China fighting against North Koreans and some rather cold hearted aliens. Crysis Warhead is a DirectX 10 game that has no mercy on any graphics card to-date.
All of the settings per resolution are below, and Anti-Aliasing is turned off during testing.

2560x1600: Mainstream
1920x1200: Gamer
1680x1050: Gamer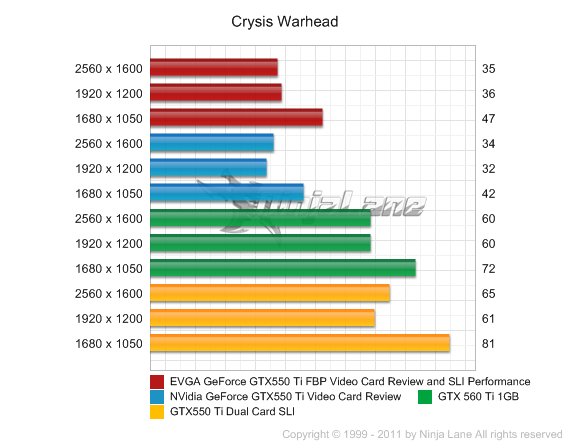 Crysis Warhead is still a struggle for any video card and the EVGA GTX550 Ti FPB shows what kind of performance we are looking for from the GTX550 Ti GPU. SLI performance has a surprisingly impressive ability to take a lead over the very capable GTX560 Ti.