reviews
EVGA GeForce GTX550 Ti FBP Video Card Review and SLI Performance
Author: Will West

Published: Friday, March 25, 2011
Aliens vs Predator
In space no one can hear you scream, but if you are a human in AVP that will be the only thing you will be doing. The game is based off of the movies and comic books series that has been done before, but this is the much bigger and better reboot of the game series. AVP is a full DX11 game with some serious Tessellation at work to test any modern GPU.
Setting used for testing is as follows.

Texture Quality: Very High
Shadow Quality: High
Anisotropic Filtering: 16x
SSAO: ON
Vertical Sync: OFF
DX11 Tessellation: ON
DX11 Advanced Shadows: ON
DX11 MSAA Samples: OFF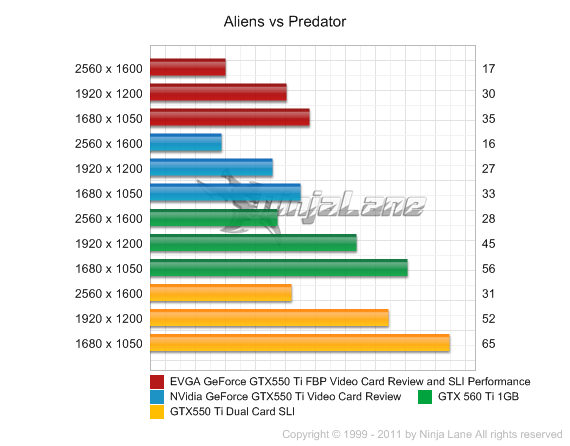 AVP is heavy with Tessellation and the EVGA GTX550 TI FPB is showing that any speed increase will give very positive results from the card over the GTX550 Ti reference clocks. Using a GTX550 Ti SLI setup is able to over come the GTX560 Ti with ease.