reviews
NVidia GeForce GTX550 Ti Video Card Review
Author: Will West

Published: Tuesday, March 15, 2011
Battlefield: Bad Company 2
Battlefield: Bad Company 2 is a huge game for the PC market, making a nice spot among gaming clans everywhere. It has a good singleplayer storyline about a superweapon in South America. BFBC2 is built on the Frostbite game engine which is fully DirectX 11 compliant. It has a fully destructible environment which makes it a stunningly visual game which pushes the limits of any video card.
Settings used in testing are as followed.

Level of Detail: High
Texture Quality: High
Shadow Quality: High
Effects Quality: High
Anti Aliasing: Off
Anisotropic Filter: 16x
Vsync: Off
HBAO: On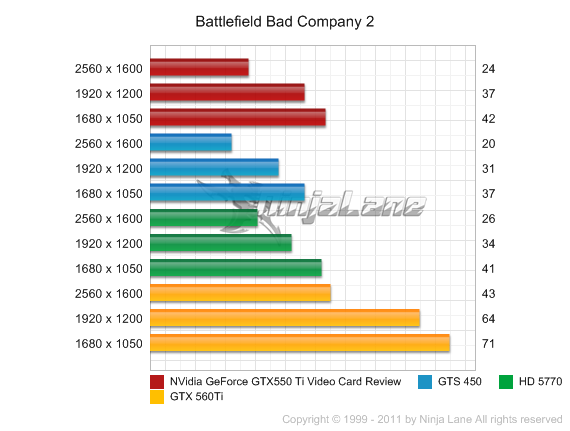 Once again in the DirectX 11 area the GTX550Ti is trading punches with the Radeon 5770, and taking a nice lead over the GTS450. Given that DirectX 11 is the newest focus for nVidia we can expect that in time drivers will push the GTX550Ti past the aging Radeon 5770.