After careful consideration I have decided to transfer all hardware review activities to a new domain. I purchased Hardwareasylum.com in 2012 and have been working hard to build a new and improved Ninjalane on that domain. If you are reading this you have reached one of the archived articles, news, projects and/or reviews that were left behind during the site migration.
Please update your bookmarks and be sure to visit the new and improved Ninjalane at Hardwareasylum.com
Computex 2010 Day 1
Author:

Dennis Garcia
Published:
Tuesday, June 08, 2010

CoolerMaster
CoolerMaster had a couple of booths setup this year, the main one was on the Nangang show floor and only featured a small selection of products.
Here we have a Show girl and a red..... uhh ya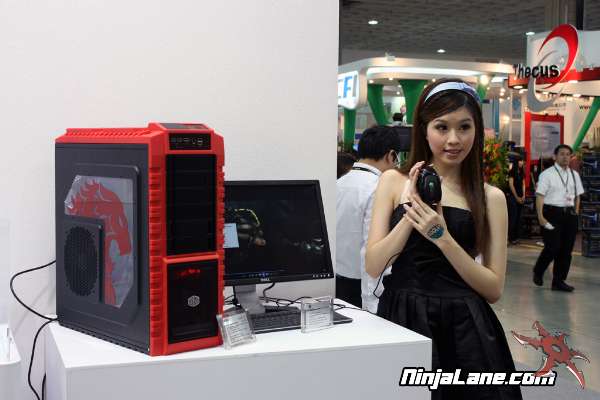 VIP's were invited to tour their meeting room which contained considerably more stuff and even featured an NDA room (no photos).

There was a lot of stuff on display from both divisions, and sadly the majority of my photos didn't turn out. Of the products shown here we have the new V6 CPU cooler, the EVGA prototype case for the SR-2, some of the new Gold PSUs, and a couple of cases.