After careful consideration I have decided to transfer all hardware review activities to a new domain. I purchased Hardwareasylum.com in 2012 and have been working hard to build a new and improved Ninjalane on that domain. If you are reading this you have reached one of the archived articles, news, projects and/or reviews that were left behind during the site migration.
Please update your bookmarks and be sure to visit the new and improved Ninjalane at Hardwareasylum.com
Introducing the Multi-GPU Index
Introducing the Multi-GPU Index
Author:

Dennis Garcia
Published:
Thursday, December 02, 2010
EVGA P55 Classified 200
Multi-GPU Scorecard
Index: 3.50
Optimized: 3x
Max Support: 3x
The ultra high-end motherboards from EVGA all come with name "Classified". These boards typically offer the best cooling, the highest quality parts, and come with the largest PWMs of the series. In some cases these boards also feature the nVidia NF200 chip for enhanced Multi-GPU performance. Of course you cannot deny that EVGA is a premier nVidia hardware provider, so you won't find anything referencing ATI or CrossFire on these boards.

One common misconception about ultra high-end motherboards is the PCI Express slot layout. Everyone seems to find it necessary to occupy all seven available slots with some sort of expandability, even if they won't ever, or cannot ever be used. This seems to be the case with the P55 Classified.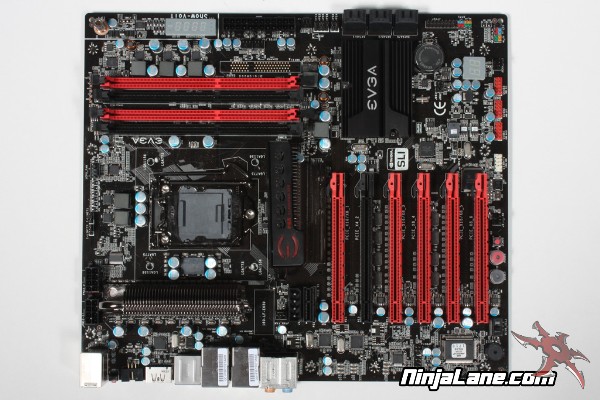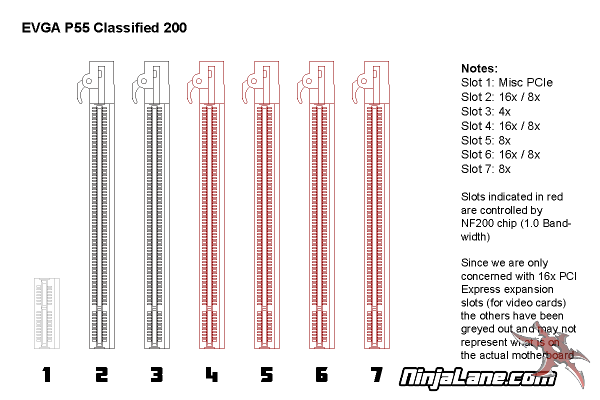 As indicated by the PCI Express layout chart there are a total of seven PCI Express slots on this motherboard, six of which can support full length video cards. Slots four through seven are all controlled by the onboard NF200 chip. Slot two is the primary video card slot and runs at full 16x bandwidth when only a single card is installed. Once you insert a card into slot four or six, the lanes split sending 8x to the NF200. Slot three is hardwired to 4x and appears to connected to the P55 chipset.

The nVidia NF200 is what they call a PCI Express multiplier chip that will basically split PCI Express 2.0 lanes into their 1.0 counterpart. (eg 16x @ 2.0 = 32x @ 1.0) and ironically enough the NF200 has 32x lanes available. Those lanes can then control up to four expansion slots with 8x of bandwidth each. There are several positives to using a NF200 chip in a multi-gpu configuration; the most common is to help divide bandwidth across an odd number of expansion slots, which is what EVGA is doing with the P55 Classified 200.

Sadly we had issues when trying to occupy all of the available PCI Express slots with a video card. It was tested, and it wasn't pretty. In fact, trying to install a fourth video card required that all of the non-essential devices, including audio, LAN 1 and 2, eSATA, etc. be disabled in order to boot. This would indicate that the board just does not have enough IRQ addresses to support that many cards, or that the NF200 chip was shutting down because it didn't have enough bandwidth.