After careful consideration I have decided to transfer all hardware review activities to a new domain. I purchased Hardwareasylum.com in 2012 and have been working hard to build a new and improved Ninjalane on that domain. If you are reading this you have reached one of the archived articles, news, projects and/or reviews that were left behind during the site migration.
Please update your bookmarks and be sure to visit the new and improved Ninjalane at Hardwareasylum.com
PhysX Performance Tests - The way games should be played
PhysX Performance Tests - The way games should be played
Author:

Will West
Published:
Thursday, November 05, 2009

Cryostasis
Cryostasis is not a very popular game but comes with a vast amount of built in PhysX to help tell the story. The game is set inside a Russian ship frozen in the ice while the main character goes through the ship reliving some of the crews last moments. The walls and the floors use tons of water effects to show the water rushing about.

We tested this game with all settings turned up, using shader 4.0, and PhysX enabled.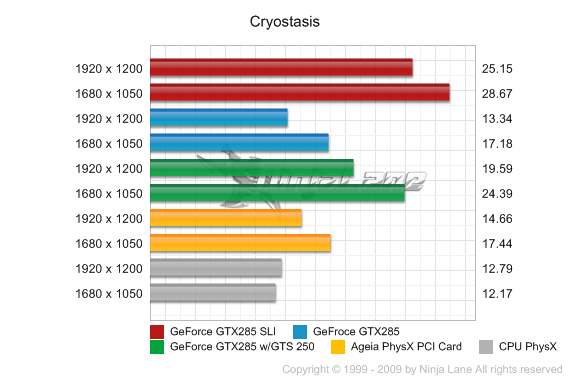 Cryostasis is a game that is just covered in PhysX effects and shows just how hard it hits every system. The CPU and the Agiea PhysX card do not have a fighting chance with this game. The GeForce GTX285 SLI setup shows its real power right here followed by the GeForce GTX285 + GTS250 combo pushing the graphics and the physics right along. The single GeForce GTX285 just does not have enough power to handle the double duty of graphics and physics calculations and is the slowest of the bunch.