After careful consideration I have decided to transfer all hardware review activities to a new domain. I purchased Hardwareasylum.com in 2012 and have been working hard to build a new and improved Ninjalane on that domain. If you are reading this you have reached one of the archived articles, news, projects and/or reviews that were left behind during the site migration.
Please update your bookmarks and be sure to visit the new and improved Ninjalane at Hardwareasylum.com
PhysX Performance Tests - The way games should be played
PhysX Performance Tests - The way games should be played
Author:

Will West
Published:
Thursday, November 05, 2009

Darkest Days
Darkest Days is a very different take on the idea of time travel by allowing you to travel back to past wars and try to change the outcome.

We tested this game setting anti-aliasing to 8x for the smoothest possible picture and with PhysX enabled.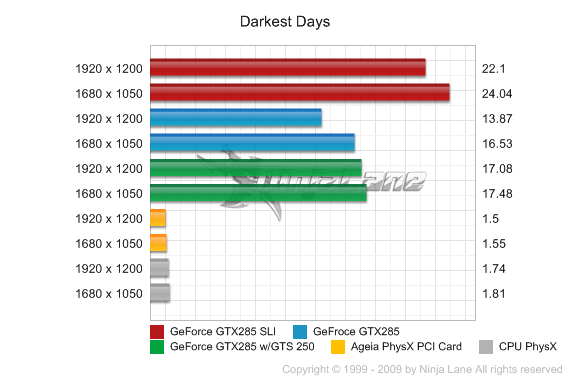 Darkest Days is a new game that uses PhysX in a very strong way by making amazing effects that blend seamlessly into the overall gameplay. The CPU and the Ageia PhysX card are no match for this new title and it's abilities to handle some serious PhysX work. In fact none of the configurations come out looking super awesome.