After careful consideration I have decided to transfer all hardware review activities to a new domain. I purchased Hardwareasylum.com in 2012 and have been working hard to build a new and improved Ninjalane on that domain. If you are reading this you have reached one of the archived articles, news, projects and/or reviews that were left behind during the site migration.
Please update your bookmarks and be sure to visit the new and improved Ninjalane at Hardwareasylum.com
PhysX Performance Tests - The way games should be played
PhysX Performance Tests - The way games should be played
Author:

Will West
Published:
Thursday, November 05, 2009

Unreal Tournament 3
Unreal Tournament is the first real Triple A title to ever tackle the PhysX animal and continues to explore PhysX enhancements by releasing new map packs and weapons to make the game more intense.

We tested one of the Capture The Flag maps named Lighthouse. This map is made up of destroyable walls built upon all kinds of levels that certain floors can be shot out with lots of debris. All settings were turned to the highest they could go. V-Sync and Smooth Framerates were turned off for this testing and post rendering is set to Intense for all the tests.

Let's see how all of our PhysX solutions compare against each other.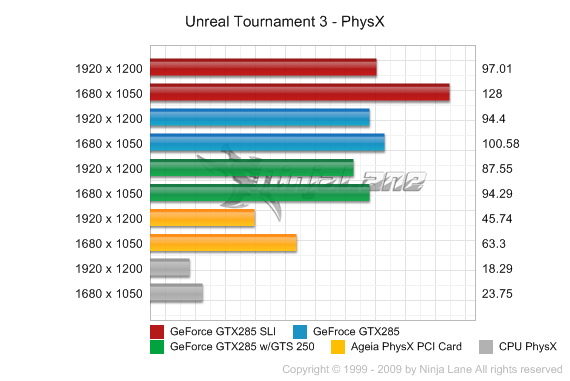 UT3 is the oldest game in this roundup and for its age it still does show some advantages of using the Nvidia GPU for PhysX over the CPU and the Ageia PhysX card. All of the options preformed very well except for the Ageia card which is showing its age and bus speed limitations. Scaling between the different card configurations steps right up like it should with the GeForce GTX285 SLI showing its ultimate power.