After careful consideration I have decided to transfer all hardware review activities to a new domain. I purchased Hardwareasylum.com in 2012 and have been working hard to build a new and improved Ninjalane on that domain. If you are reading this you have reached one of the archived articles, news, projects and/or reviews that were left behind during the site migration.
Please update your bookmarks and be sure to visit the new and improved Ninjalane at Hardwareasylum.com
PhysX Performance Tests - The way games should be played
PhysX Performance Tests - The way games should be played
Author:

Will West
Published:
Thursday, November 05, 2009

Mirrors Edge
Mirrors Edge is another high profile title that has the almighty PhysX backing to it. The PhysX adds content to the game that is otherwise hidden for non-PhysX users. Cool materials such as plastic, fabric banners, and fabric being ripped apart while bullets pass through are scattered around the game.

Mirrors Edge is a very fast paced game that keeps you running on top of roof tops and inside office buildings. Much of the graphics are hard lined stuff that needs tons of Anti-Aliasing in order to make it look good. So all of the settings are turned up and Anti-Aliasing is kicked up to 8x in order to make this an excellent gaming experience.

Let's see the impact this title put on the PhysX setups we have here.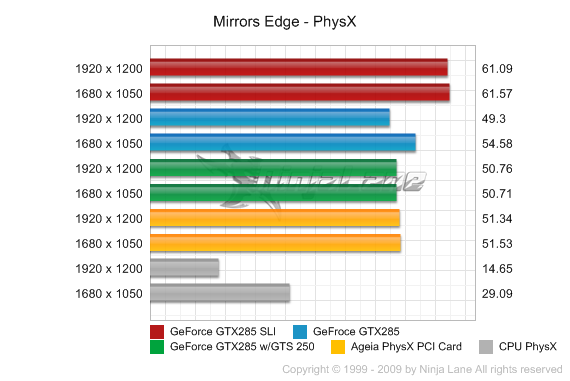 Mirrors Edge is very consistent in terms of PhysX performance however despite the additional content and environmental factors the game doesn't really have that much PhysX content. The only spot that does take a turn for the worse on Mirrors Edge is when the CPU is doing PhysX processing.