After careful consideration I have decided to transfer all hardware review activities to a new domain. I purchased Hardwareasylum.com in 2012 and have been working hard to build a new and improved Ninjalane on that domain. If you are reading this you have reached one of the archived articles, news, projects and/or reviews that were left behind during the site migration.
Please update your bookmarks and be sure to visit the new and improved Ninjalane at Hardwareasylum.com
PhysX Performance Tests - The way games should be played
PhysX Performance Tests - The way games should be played
Author:

Will West
Published:
Thursday, November 05, 2009

Batman: Arkham Asylum
Batman Arkham Asylum has to be one of the biggest PhysX titles to hit since Unreal Tournament 3 and happens to be based off of the Unreal 3 engine. This is the one "killer app" that finally makes PhysX take on the atmosphere and shape of what it is all about. From having a more realistic destructible environment to incorporating one of the greatest fog effects I have ever seen.

We tested this game with all of its settings turned up to the max and with anti-aliasing set at 8x. The PhysX portion was turned up to max to make sure no single configuration had an unfair advantage and will show exactly where the CPU and dedicated PhysX cards stand in the PhysX world of today.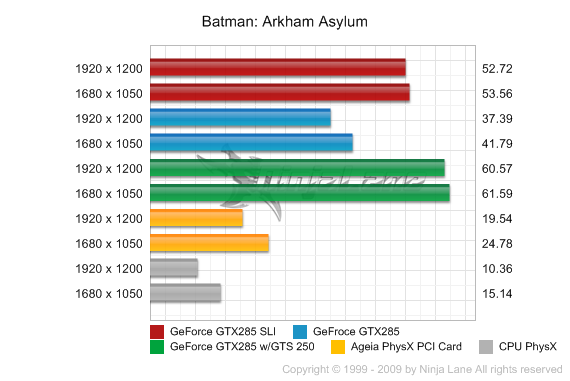 Batman Arkham Asylum is a title that uses so much PhysX you sometimes get lost in knowing what effects are triggered by PhysX and which are not. These effects are all over in the game and not just limited to certain areas.

The single GeForce GTX 285 does show its limits during the testing of Batman and scored quite low, but the game experience is never lost while playing. As we might have expected the Ageia PhysX card and the CPU just take a nose dive when dealing with the Batman Arkham Asylum. The real surprise here is how using dedicated PhysX processor actually increased performance, even over the GTX 285 in SLI.