After careful consideration I have decided to transfer all hardware review activities to a new domain. I purchased Hardwareasylum.com in 2012 and have been working hard to build a new and improved Ninjalane on that domain. If you are reading this you have reached one of the archived articles, news, projects and/or reviews that were left behind during the site migration.
Please update your bookmarks and be sure to visit the new and improved Ninjalane at Hardwareasylum.com
Corsair Ice T30 Dominator Memory Cooler Review
Author:

Dennis Garcia
Published:
Saturday, September 12, 2009

Installation
The cold plate attaches to the top of the Dominator memory. To do this you need to first remove the cooling fins and carefully remove the TIM and keep it with the finned heatsink. The cold plate is then prepared with a replacement TIM and attached to the top of the memory modules with the included screws.
Next the TEC is set in place and a liberal amount of thermal paste is applied to ensure a good thermal connection.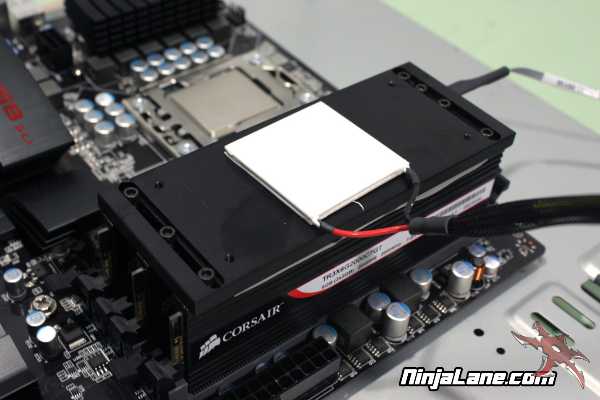 Installing the Hydro H30 waterblock is not unlike any other traditional waterblock installation. There is a spring to apply the tension, and plastic spacer to ensure you do not crush the TEC. All of the screws are fine threaded so you won't need to apply much pressure during installation.
The final step is to reapply the cover plate, attach your watercooler hoses, and hook up the various temperature and power leads.