reviews
MSI GTX550 Ti Cyclone OC Video Card Review
Author: Will West

Published: Monday, April 11, 2011
Call of Duty: Modern Warfare 2
COD: Modern Warfare 2 is a second installment in the Modern Warfare series and set sometime after the conclusion of COD4. The game is a very fast moving first person shooter that is known for its incredible single player story line and strong online multiplayer community. MW2 is one of the top grossing games of all time. It is based on DirectX 9 technology and really shows that game developers can still make incredible looking games from older technology.
MW2 was tested with the following settings. Overall graphic details were set to the highest level along with 4x Anti-Aliasing on to push for the best gaming experience.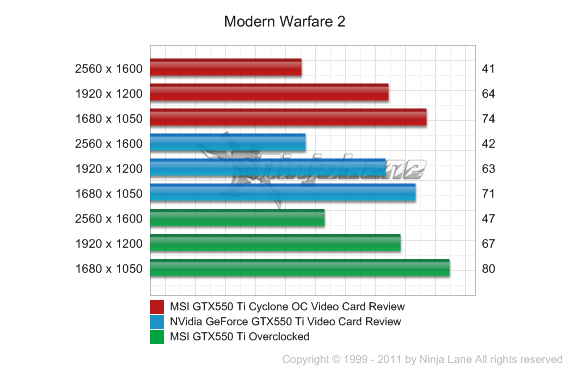 The factory overclock is a very small improvement over reference, but the highest overclock helps pad the numbers to increase playability.