reviews
MSI GTX550 Ti Cyclone OC Video Card Review
Author: Will West

Published: Monday, April 11, 2011
Battlefield: Bad Company 2
Battlefield: Bad Company 2 is a huge game for the PC market, making a nice spot among gaming clans everywhere. It has a good singleplayer storyline about a superweapon in South America. BFBC2 is built on the Frostbite game engine which is fully DirectX 11 compliant. It has a fully destructible environment which makes it a stunningly visual game which pushes the limits of any video card.
Settings used in testing are as followed.

Level of Detail: High
Texture Quality: High
Shadow Quality: High
Effects Quality: High
Anti Aliasing: Off
Anisotropic Filter: 16x
Vsync: Off
HBAO: On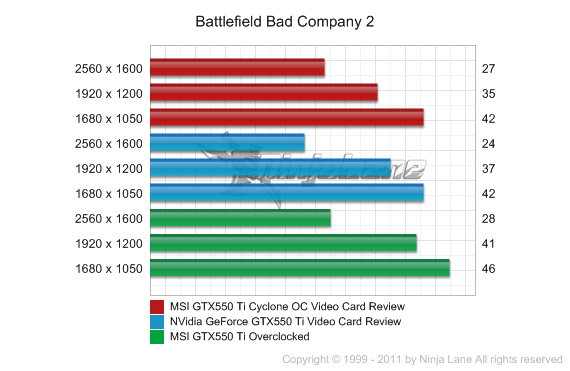 The factory overclock just starts to make BF Bad Company 2 playable at the higher resolutions and the highest overclock just gives a little more in this area. As for the lower resolutions the numbers speak for themselves with great improvements.