After careful consideration I have decided to transfer all hardware review activities to a new domain. I purchased Hardwareasylum.com in 2012 and have been working hard to build a new and improved Ninjalane on that domain. If you are reading this you have reached one of the archived articles, news, projects and/or reviews that were left behind during the site migration.
Please update your bookmarks and be sure to visit the new and improved Ninjalane at Hardwareasylum.com
Sapphire Radeon HD 6950 Video Card Review
Author:

Dennis Garcia
Published:
Wednesday, December 15, 2010
Introduction
AMD decided to mix things up a bit when they released the HD6000 series, first by releasing the midrange cards before the high-end, and next by using previous high end naming schemes to describe them. So while the HD 5870 was the previous generation "bad-boy" the new HD 6870 was nothing more than a docile pony designed to give the nVidia GTX 460 some company. So why do this? Some say the change was to expand the product line and offer more high-end card options. This makes sense, considering the current nVidia lineup. Others take a more sinister stance and claim AMD was worried about the new chip architecture and wanted something solid in the market, just in case the next card they released didn't work out.

Regardless of the actual reason the anticipated next gen high-end Radeon card has been released and is available in 2 versions, Radeon HD 6970 and Radeon HD 6950. In this review we will be looking at the Sapphire Radeon HD 6950. Typically the XX50 cards feature the same basic specs as the XX70 counterparts with only a few minor tweaks to help bring the price down.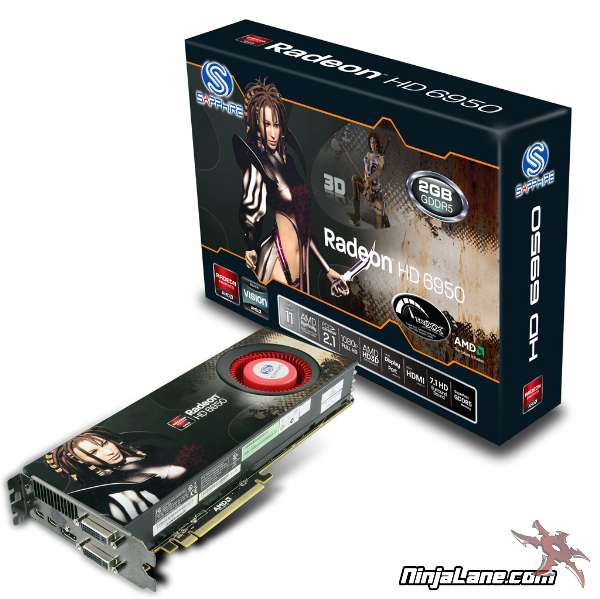 Specifications
Fabrication Process: 40nm
Core Clock: 800MHz
Stream Processors: 1408 units
ROP Units: 22
Memory Interface: 128-bit
Memory Amount/Type: 2GB/GDDR5 Memory
Memory Clock: 1250MHz (5000MHz effective)
Memory Bandwidth: 160.0 GB/s
DirectX Compliance: 11
Connection: 16x PCI Express 2.1
Form Factor: Dual Slot
Multi-GPU Support: CrossFire
Part Number: 21188-00-40R