After careful consideration I have decided to transfer all hardware review activities to a new domain. I purchased Hardwareasylum.com in 2012 and have been working hard to build a new and improved Ninjalane on that domain. If you are reading this you have reached one of the archived articles, news, projects and/or reviews that were left behind during the site migration.
Please update your bookmarks and be sure to visit the new and improved Ninjalane at Hardwareasylum.com
CoolerMaster Storm Sentinel Advance Mouse Review
CoolerMaster Storm Sentinel Advance Mouse Review
Author:

Will West
Published:
Tuesday, January 19, 2010

Included Features
The CM Storm Sentinel Advance has normal gaming mouse software with more options than you can shake a stick at. You can control about every aspect of the mouse from the software. The one nice thing is that the mouse has five total profiles that you edit to the setting of your liking. Then say you take your CM Storm Sentinel Advance on the road to someone else's house. Well you can just plug the mouse in and bam your settings are all still there without ever needing to install the software. Once the options have been added to the profiles it is there till you change them. This allows for fine tuning of your mouse and going anywhere with it. So each profile can be set for different types of gaming to whatever tickles your fancy.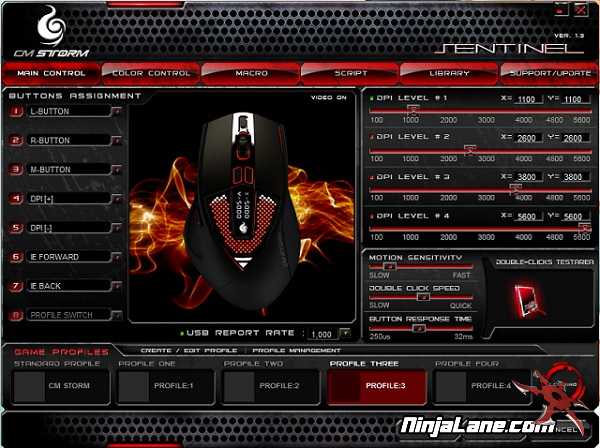 These custom profiles also keep your color options as well on the mouse. With a total of eight colors to chose from and two different areas to us the colors at. The CM Storm Sentinel Advance will make sure you are covered in the customization area all the way.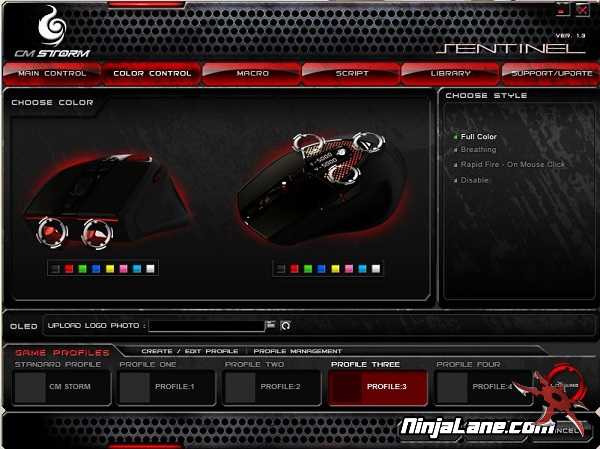 The LCD on the CM Storm Sentinel Advance is similar to the Silverstone Raven mouse we reviewed a little while ago. It displays the X and Y DPI settings on the mouse while the button just above the LCD screen allows for the quick switching of the DPI. Behind the DPI numbers is a symbol that can be changed to a custom image as well.

Which is easier said than done.